Description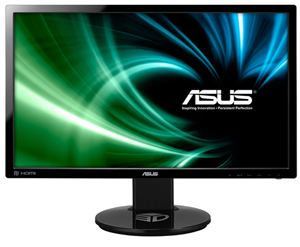 ASUS VG248QE Black 24″ Gaming Monitor
Enjoyment of Gaming and Entertainment
All the excitement of action movies, games and sports will be maxed out. Every motion is super-fast and smooth. Every scene is vibrant and true to life. Take advantage of NVIDIA 3D Vision which transforms gaming and moving experiences into 3D. You can activate crosshair and timer functions to your advantage in FPS/RTS games. Just connect it to your PC via HDMI, DispayPort r DVI, and dive into the hot actions.
Ultra-smooth action
144Hz rapid refresh rate with 1ms response time
ASUS VG248QE fast gaming monitor shortens the time it takes for rendered frames to display on the screen. Lower monitor latency gives a gamer the opportunity to improve their in-game response time.
The 144Hz rapid refresh rate speeds up the frames per second to deliver ultra-smooth motion scenes in 2D intense actions*.
The response time is also reduced to 1ms to eliminate tracers by controlling voltage levels when driving liquid crystals thus ensuring fluid and clear video playback.
Sluggish motion scenes in 144Hz refresh rate
Ultra-smooth motion scenes with Trace Free II Technology (144Hz+ 1ms)
Sluggish motion scenes in 60Hz refresh rate
Blur motion scenes without Trace Free II Technology
* To activate 144Hz function (in 2D mode), both DisplayPort (or Dual-link DVI) and a selected graphics card with the latest driver are required. Please kindly contact the service center of your graphics cards companies for further technical supports.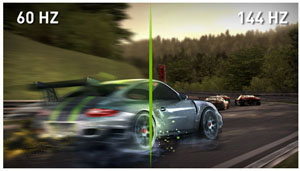 Conventional 60Hz LCDs show extensive motion blur, and can be distracting when playing games with fast movement. The ASUS VG248QE 144Hz fast gaming monitors half the effects of motion blur to deliver a perceivable difference for natural movement and crisp edges on fast paced gaming environments.
True-to-life pictures powered by LED
80,000,000:1 ASUS Smart Contrast Ratio
Dynamically enhances the display's contrast by adjusting the luminance of the backlight to achieve the darkest black and brightest white—delivering lifelike images.
Full HD 1080p Support
Enter a spectacular world of colors with Full HD 1080p (1920×1080) support.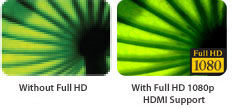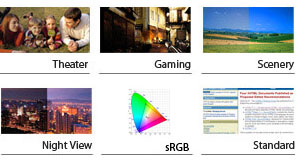 Splendid Video Intelligence Technology
The exclusive Splendid Video Intelligence Technology optimizes video performance and image fidelity by enhancing color, brightness, contrast, and sharpness. 6 preset video modes (Scenery, Theater, Game, Night View, sRGB and Standard) can be selected via a hotkey.
User-friendly gaming experience design
As with most ASUS displays, the VG248QE has an ergonomic design, with tilt, swivel, pivot and height adjustment to give users a comfortable viewing experience.
When it comes to design, ASUS always have customers in mind—the ASUS VG248QE features the ASUS-exclusive GamePlus hotkey with crosshair (aimpoint) and timer functions. Gamers can select four different aimpoint types to suit the gaming environment; while the latter keeps players aware of the elapsed time in real-time strategy games. These tools allow gamers to practice and improve on their gaming skills.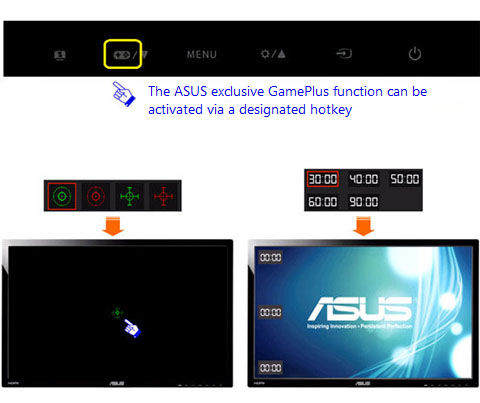 Extensive connectivity and built-in stereo speaker for multimedia enjoyment
The VG248QE is compatible with the NVIDIA 3D Vision 2 kit** through DisplayPort and dual-link DVI, providing support across three Full HD displays for an immersive multi-display 3D gaming experience. DisplayPort, HDMI, and Dual-link DVI-D ports ensure extensive connectivity and compatibility with a variety of multimedia devices including Blu-ray disc players or game consoles; while built-in 2W stereo speakers further add to an immersive home entertainment experience.
Uncompromised 3D immersion

The VG248QE is compatible with the NVIDIA 3D Vision 2 kit**. Through NVIDIA 3D Vision 2 glasses technology, it instantly takes you into another dimension—transforming all your gaming experiences and movies to 3D. Also with the latest NVIDIA 3D LightBoost Technology, user can enjoy twice the brightness of conventional 3D technology in 3D mode with zero increase in total energy consumption.
** User needs to purchase the additional NVIDIA 3D Vision 2 Kit for immersive 3D enjoyment.